Please see below a message from the Family Matters team, and information about their upcoming courses.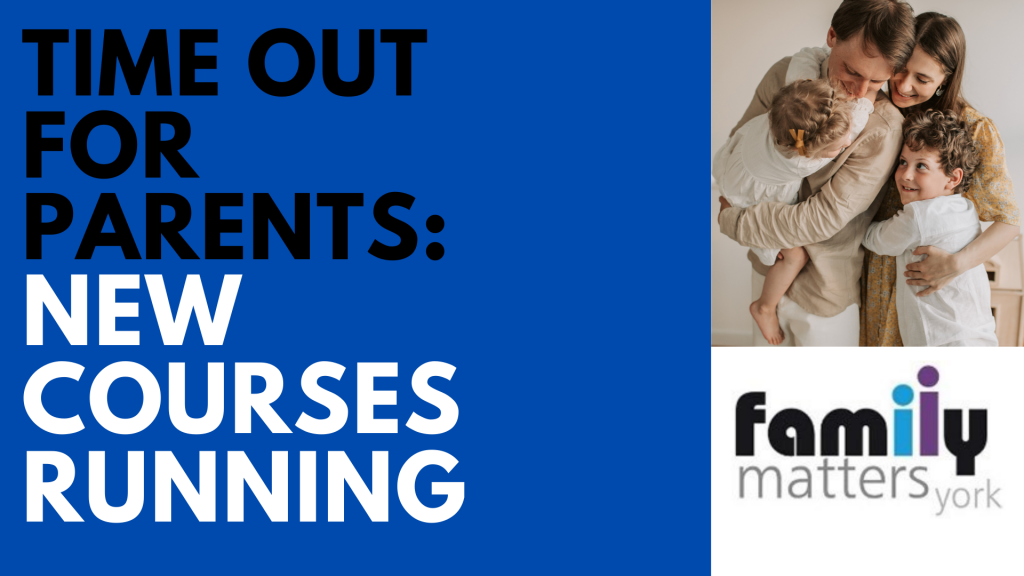 Here at Family Matters York we are preparing for the last half term of the academic year!
If you're a parent, perhaps you've been meaning to go on one of our courses for ages…Well this is your final chance for this school year – doesn't time just fly by?!
We're running one of each of the courses in our Time Out For Parents set across various locations and days, so we really do have something for everyone.
Take a look, and please do share with others who you think will be interested.Family Matters York

Wednesday mornings
9.30 to 11.30am for 4 weeks, starting 15th June
at Acomb Methodist Church
Front Street
Acomb
YO24 3BX
For flyer click here

Wednesday afternoons
12.45 to 2.45pm for 5 weeks starting 15th June
Online via Zoom
For flyer click here

Tuesday evenings
7.15 to 9pm for 5 weeks starting 14th June
Online via Zoom
For flyer click here

Monday evenings
7.30 to 9.30pm for 5 weeks starting 13th June
at York Baptist Church
Priory Street
York
YO1 6EX
For flyer click here


Tuesday afternoons
12.45 to 2.45pm for 5 weeks starting 7th June
at The Avenues Children's Centre
Sixth Avenue
Tang Hall
YO31 0TX
For flyer click here

Monday evenings
12.45 to 2.45pm for 5 weeks starting 7th June
at Cornerstone (was St. George's Methodist Church)
Millfield Lane
York
YO10 3AL
For flyer click here
To book a place or for further information please contact Helen Atkinson
We also offer Reconnect, a 5 session couple to couple mentoring service, focusing on relationship skills to help you strengthen your couple relationship. For details contact Emma at
emmamarshall@fmy.org.uk
Family Matters York