At Fishergate, we are supporting Music4Mums which is a special fundraising event to raise money for APP (Action on Postpartum Psychosis). We would like to invite YOU to a special assembly on Wednesday 3rd May where children in Y1-6 will be singing songs about our families to raise money for this worthwhile cause. Donations will be gratefully received at the end of the assembly.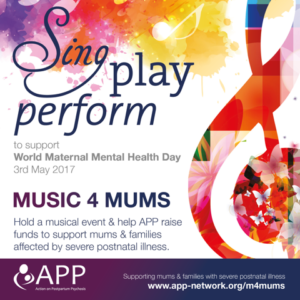 On World Maternal Mental Health Day, APP invites everyone to 'Sing, Play, Perform' and support Music 4 Mums.
Musical events will be taking place all over the country, raising awareness of the need for adequate maternal mental health care services in every area of the UK, and raising much-needed funds to support APP's vital work supporting women & families affected by Postpartum Psychosis.
More details of the charity and this special project can be found at http://www.app-network.org/m4mums/
We look forward to seeing you and your family for this special assembly; celebrating our very own families!