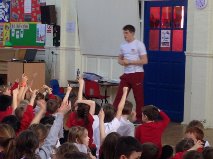 Last week, we were delighted to welcome international diver, James Denny, to school. James visited us as part of the SportsForSchools programme, and spent the morning with each class in school, taking part in a variety of fitness sessions and talking about how he began a career in sport .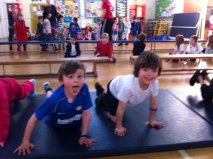 The morning concluded with James leading a full school assembly to talk about his diving experiences alongside Tom Daley, in winning a Silver Medal in the Commonwealth Games and his future hopes of competing for Great Britain in the Rio Olympics in 2016.
As you can see in the video below, he even treated us to a few acrobatic skills!!!