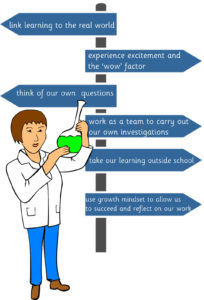 In science our aim is to arouse children's curiosity, interest and enjoyment of the world around them.
With an emphasis on first-hand experience and cross curricular links where appropriate, children are encouraged to think of questions to investigate, test their own ideas and interpret their findings which may lead to further investigations.
With the New Curriculum 2014, there is now a larger emphasis in understanding more about plants in our natural world and sourcing and consuming foods that are ethically produced and rich in nutrients. Our allotment is the perfect place for this learning to begin and with enterprise opportunities for all children, by selling their produce, this makes learning fun and real!
Click here for planning and progression documents in all subjects