Admissions for full time places at Fishergate school are processed by the admissions team at City of York Council.  Further details are available on their website. You can also find more information about admissions to Fishergate School in our Admissions Policy, on the School Policies page.
If you have an enquiry about a part-time place for your child in the Early Years unit, please contact Mrs Deighton in the school office.
Will your child start reception in September 2017?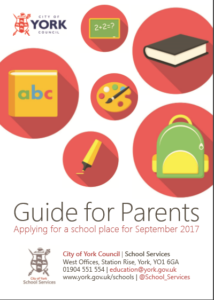 Your child can start primary or infant school in the September of the school year they turn 5 – so if your child's 5th birthday is between 1/9/17 and 31/8/18 you can apply for a place in reception for September 2017.  Applications for entry into reception in September 2017 can be made either:
On time applications were being accepted until 15 January 2017.  Late applications can be made after 15 January, though these may be looked at after other applications.  Applicants will be advised of their allocated school from 'national offer day', which is 18 April 2017.
Please read the Guide for Parents when applying for a school place, as it contains key information on school admissions.